November 1994
"The Roadkill/ShiroTora Site" is dedicated to the loving memory of my mother, Renée Wolk Richman whom I love with all my heart!
Also In Loving Memory of my Grandmother, Jean Wolk
Born 25 Jul 1906 - Died 5 Sep 1999




Born 6 Nov 1938, Killed in a Car Accident Thanksgiving Eve., 23 Nov 1994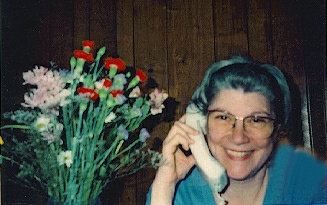 Mom on the phone
Adapted and modified from the John F. Kennedy High School 1994/95 Yearbook
In Loving Memory of Renée Gail Wolk Richman
Renée Richman loved being alive. Her joy in life showed brightly in her love of intense color and the immense pleasure she took in a sense of humor. She always said that a sense of humor could get a person through very hard times. I have found this to be true on many occasions since her passing. She had the rare talent of being nonjudgmental about people, but especially about the students at John Fitzgerald Kennedy High School where she worked for 12 years. She was steady and flexible with everyone she met. She had an easy willingness to help anyone who needed her, from tutoring students for English classes to giving a bone marrow transplant to a complete stranger. We miss her deeply!
                                        a child become wife become mother,
how brief is life,              pure in spirit, so warm in heart,
how fleet afoot;                taken life a winters frigid blast;
even old age                    her life now passed.
comes in the wink of an eye.
but a life cut short            deep chasm of mourning
before its time                 engulfs those that knew
takes our breath away,          how very precious and few
and makes us wonder             are such souls among us.
at purpose                      so the parting must befit
       and reason               the light and joy and love
              and rhyme         which her life was.

                          cherish the memories,
                             fragile and fleeting though they may be,
                             for that is what will keep her love alive,
                             and in the remembering
                             keep her with us
                             even as we go forth into tomorrow

                          but today
                             as in a dream we walk,
                             and heavy is the burden on our hearts.
                             there was no time for good-byes,
                             so let us remember all of her hellos. 
 A Very Special Thank You goes out to Kathy Satler the author of the preceding poem
To all this I can only say;
MOM, I LOVE YOU
AND
I MISS YOU WITH ALL MY HEART!